Model/Type Designation: FENCER C and D
Name / Designation: BABI YAR and FORTUNADO
Allegiance: PAN E
Unit / Formation: UNKNOWN
Notes: Units shown after battlfield upgrades
Credit: Alan Brain aebrain@eisa.net.au
For gaming stats for Fencer C and D upgrades, click
here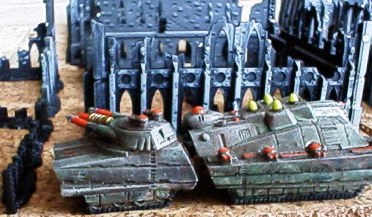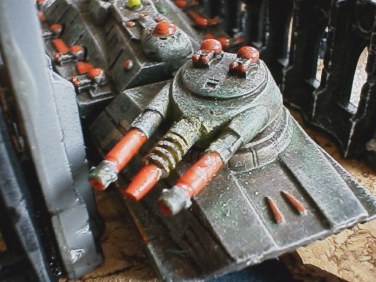 FENCER C- unit 'BABI-YAR' fitted with OGRE Primary Weapon Upgrade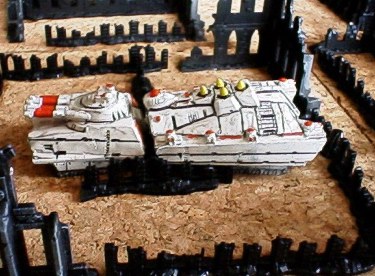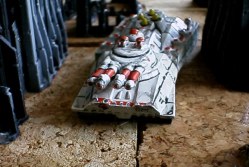 FENCER-D- unit 'BLANCMORTE' fitted with 2 additional secondary batteries
Model/Type Designation: NINJA
Name / Designation: unknown
Allegiance: NA COMBINE
Unit / Formation: Unknown
Notes: Imagery taken both in action and during construction at the Batterton Manufacturing Facility
Credit: Peter Batterton (pbatt1@yahoo.com)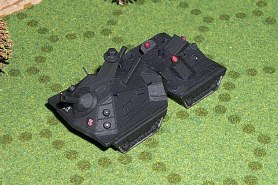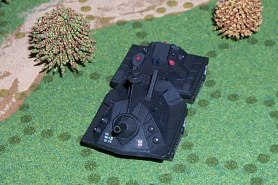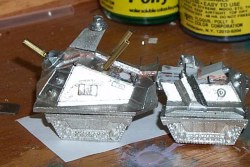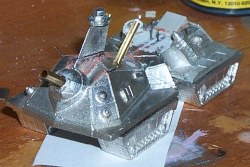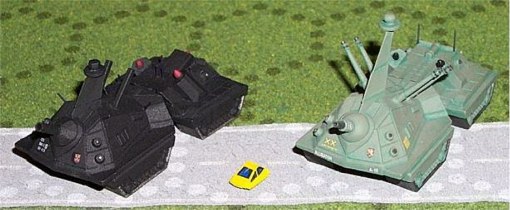 Comparison between Ninja and Standard Model MkIII "Alligator"
Model/Type Designation: Abomination (OGRETHULU)
Name / Designation: OGRE Mk V unit "DERLATH"
Allegiance: COMBINE
Unit / Formation: Nil
Notes: MIA since the Hawaii Offensive
Credit: Steve Jackson Games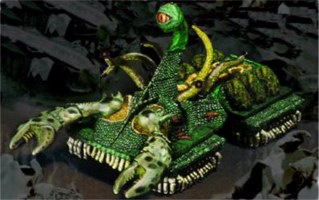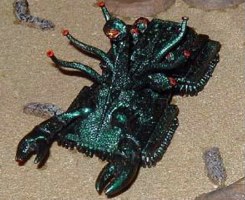 Model/Type Designation: GOLEM-134
Name / Designation: UNKNOWN
Allegiance: ISRAEL
Unit / Formation: UNKNOWN
Notes: Last seen operating in Occupied Jordanian Military District
Credit: Ratty kitsune@netscape.com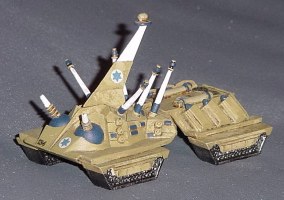 Model/Type Designation: HUSCARL
Name / Designation: DIJON
Allegiance: PanE
Unit / Formation: Deuxieme Legion Entrangere
Notes: Manufactured Gdansk, seen alonside standard MkV model for comparison
Credit:: Alan Brain aebrain@eisa.net.au
Recognition features to distinguish it from a NAC Mk V
a) Slightly smaller and lower slung. This marginally reduced the requirements for strategic materials, and allowed a smaller ECM suite overall.
b) No tower. Sensors were re-located to the Nose, under additional BCP.
c) Ballistic "nose" foreshadowing the Doppelsoldner.
d) More efficient arrangement of AP batteries.
e) Simplified rear deck containing additional ECM gear.
f) Thinner secondary battery barrels, using Pan European composites. These wore out quicker than the NAC equivalent, but were cheaper and easier to replace.
g) Plug-in missile canisters allowing quick change, but requiring additional ECM installed in new deck for equal protection.
h) Lowered and strengthened suspension.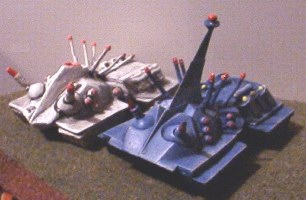 Model/Type Designation: UNKNOWN
Name / Designation: UNKNOWN
Allegiance: UNKNOWN
Unit / Formation: UNKNOWN
Notes: Orig Conversion by Paul Grogan
Credit: Paul Grogan paul@runestonegames.freeserve.co.uk
www.runestonegames.freeserve.co.uk