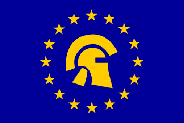 New Paneuropean Units
by Warner Airey
LTNK-Recon
Attack/Range: 2/3 M3 TNK
D1 Size:1 VP: 3
Used for reconnaissance in much the same role as the LGEV. Unlike the daredevil "jev-jockeys", reconn crews scout around very quietly. Their job does not include surviving stand up fights.
Can carry 1 INF squad.
Panzer-D
Attack/Range: 4/3 M3 TNK
D1 Size: 2 VP: 6
German built Panzer Destroyer. Everything else has been stripped away to make room for the Ogre-type main weapon. Can carry 1 INF squad.
M11 Battle Tank
Attack/Range: 2/3 M3 TNK
D4 Size: 3 VP: 6
MBT with crew survival as first priority. Famed for its thick skinned ability to absorb damage. The M11 "Camel" has an unusual lumpy appearance caused by armoured bulgeís. These give it superior protection from top-attack weapons, locations where other tanks are often weak. Can carry 1 INF squad.
HVY TNK-C
Attack/Range: 2/3 M3 HVY
D3 Size: 3 VP: 6
Anti-hovercraft version of the heavy tank. Considered by many to be the first really effective tracked vehicle able to hold its own against GEV's, even in open terrain. Known as the "Siberian". Able to carry 1 INF squad.
EUROPA Kingpanzer
Attack/Range: 8/3 (4/3 + 4/3) M3 TNK
D3 Size: 5 VP: 12
Mounting more and bigger weapons comes at a price. The massive Europa Kingpanzer is a bit cumbersome, with TNK mobility type. Also has two 1/1 AP weapons, similar to a SHVY. Able to carry 2 INF squads.
Despite high expectations, as suggested by the rather arrogant name, the Europa was never produced in large numbers. More reliable designs such as the standard HVY were far more cost effective. When first used on the battlefied, however, it caused as much fear as an Ogre.
Hind-HGEV
Attack/Range: 4/2 M3/2 GEV
D3 (Special -1) Size: 4 VP: 12
Paneuropean multi-role heavy GEV. Carries the biggest gun and heaviest armour possible without being reduced to crawling speed. Referred to by its designers as the Hind JumpJev.
Because of the Hindís incredible agility and extra defensive electronics, itís very hard to hit. Subtract 1 from any die roll of any attack made against a Hind except by infantry in overruns.