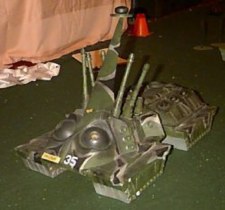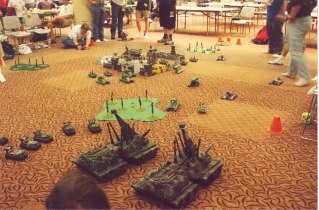 John Hurtt (aka "Flunky") was one of the team of 3 people who created OGRE Macrotures. He sent me some pics of his creations in action at JONESCON V (in Gainesville, Florida). The photos are copyright me (for the artistic work) the actual models are copyright Steve Jackson Games and Sci-Fi-Supply (with SJG's permission).
Thanks John! Everyone agrees it is OUTSTANDING Work !
The only problem is...where can I get one? NOW!
If you'd like to see more of the Macrotures, head on over to his

Ledon Cook sent me these pics of OGRE Macrotures in action at the "Dexcon V" convention and has graciously allowed me to host them. They give a really great sense of the scale of the beasts.